Name: Zero
Type: Demon Wolf
Mother: Chieko
Father: Never knew him but I know his name is Sinister
Sisters: Bolt and Tulip
Brothers: Icaros and Liam
Mate: Raven (WaterLily's Daughter)
Decription:
I am a demon wolf, which I got from my father. He was evil and was put to death by my Uncle Thorn, my mother's brother. I will defend the ones I love even at the cost of my own life. I love Raven and hope to have pups with her soon. She has seen my demon side only once when we were ups and I never want her to see that side of me again. I can't fully control my demon side yet but I am learning to with help from my mother and uncle.
This is what I look like in demon form.
Name: Liam
Type: Star Wolf/Shapeshifter
Mother: Chieko
Father: Sinister
Mate: Don't have one yet
Description: I'm black and white just like mother. I may look like her but I don't have the same powers. I'm half StarWolf and half Shapeshifter. All of my siblings are different types of wolves, none of us are the same. My Father's father was a Star Wolf too and he could also shapeshift. His favorite form a Polar Bear because he'd like to disappear from the pack sometimes and have some peace. My favorite form is an Arctic Weasel because it's so small that I can get away from danger and also squeeze through almost anything. This is my regular form:
This is my Arctic Weasel form: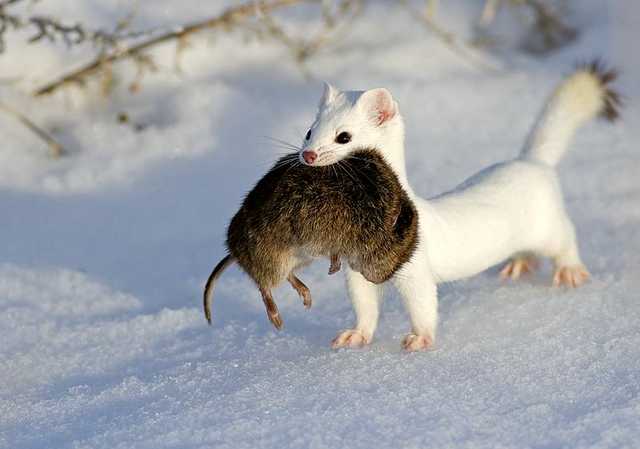 And this is my Star Wolf form:
I don't have a mate or pups but I am looking. When I find my soul mate I will treat her as my queen and will always protect her no matter what. I've been training with my Uncle Thorn and I am now more powerful than ever. So here's hoping I find a mate <3
Name: Icaros
Type: Ice Wolf
Mother: Chieko
Father: Demon Wolf Sinister
Mate: Not yet
Description: I am yellow/blonde and white. I'm an Ice Wolf so I can control snow/ice/frost. My powers aren't fully developed yet but they will be soon. I still live with my mother and Brother Liam and Sister Tulip. I help them hunt for mother because she is beginning to get too old to hunt on her own. Uncle has been training so he can protect his own family. I just hope I can get as strong as him so I won't have to rely on my siblings when I am in danger. This is my regular form:
I'm looking for a mate to call my own so if you like me, then act now cause I am a loving wolf that only wants to care for his mate and cherish her until the day I die. Well Time to go hunting!
Name: Malakai
Type: Unknown
No Parents or family
Has no memories
 Description: Malakai is a boy wolf pup that woke up in a field of snow. He's solid black and wears a neacklace that has a fang on it. It was a gift from somebody but he doesnt remember who. His eye lids are black and have lines going up and down them. His eyes are gold and he is very powerful when made angry. DONT MAKE HIM ANGRY! He needs help recovering his memories. This is him: